Tillykke fodselsdag til mig!
(I think that's right...Danish oral final in two days! Aaaugh!)
So. I'm 20. Am I an adult yet?
Despite the wind and rain's relentless efforts to freeze my face off, it's been a pretty good birthday. Yesterday Mom, Dad, and Jen sang "Happy Birthday" and lit candles via webcam, which was ridiculous and sweet. Today I received a birthday card from Grandma and a non-birthday-related but uncannily-timed postcard from Carolyn. Woo!
My parents also deposited some money in my account and ordered me to have a good time on my birthday. So...
My first present to myself was going to bed at 2 AM instead of staying up to finish my Kierkegaard paper. (I finished it this afternoon instead.)
My second was a bottle of chocolate milk, heated up in the DIS microwave to make hot chocolate! (Quiet, you. It was exciting. And it's cold outside.)
My third was buying a copy of Terkel i Knibe ("Terkel in Trouble")! It's a computer-animated Danish movie I saw during the study tour that, despite being rated for kids 11 and up (?!?!) is ridiculously offensive. And hilarious. It will be a Cultural Artifact to take home and share with everybody!
And, lastly, I went out to dinner at Riz Raz (a Meditterranean, veggie-friendly restaurant north of DIS) with Jeff and Kathy. Yayyy...falafel. And discussions of packing for home, Philadelphia wind tunnels, and Indian wangs. 'Twas a most enjoyable evening.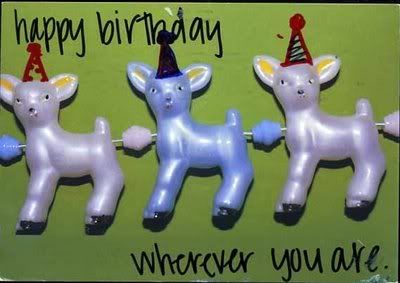 Also, to whoever it was who happened to post this one in the latest batch of Postsecret postcards...thank you!