The winner of the Nebula award for Best Novella, Kelly Link's "Magic For Beginners" (an interesting title choice, as while there's plenty of beginners in the story, there's not that much magic--at least in the usual sci-fi/fantasy sense), is available online here. If you're looking for some quality finals-week procrastination material, here you go--it's a truly lovely story.
By way of Margie, it's a South Park avatar creator. Here's mine: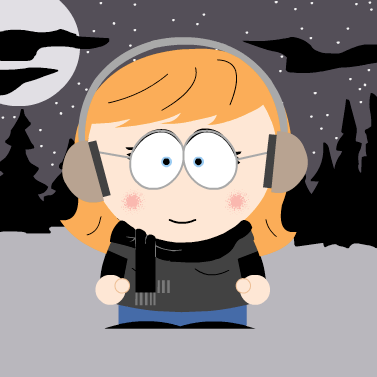 And now three bands:
Explosions in the Sky - I'm surprised I hadn't listened to these guys before. They're basically Mogwai, only more so. One of the best makeout bands out there. Their website is here; if you go to albums and look at "The Earth Is Not a Cold Dead Place," they have "Your Hand In Mine" (my favorite song of theirs thus far) available for download.
Paul Simon - The guy from Simon and Garfunkel. It took me a long time to realize that. Hey, shut up. Anyway, he apparently has a new album, "Surprise." You can listen to it on his website (albeit through a crappy Flash interface...roar).
Friends Like These - Minnesota music, baby. They're young, website-less, and unless you listen to the Current, you'd probably have no chance of hearing them. Damn catchy music, though, and it sounds like they have a lot of fun. And they named a song after me! Sort of. You can listen to "Karen" and "7th Street Queen" here.